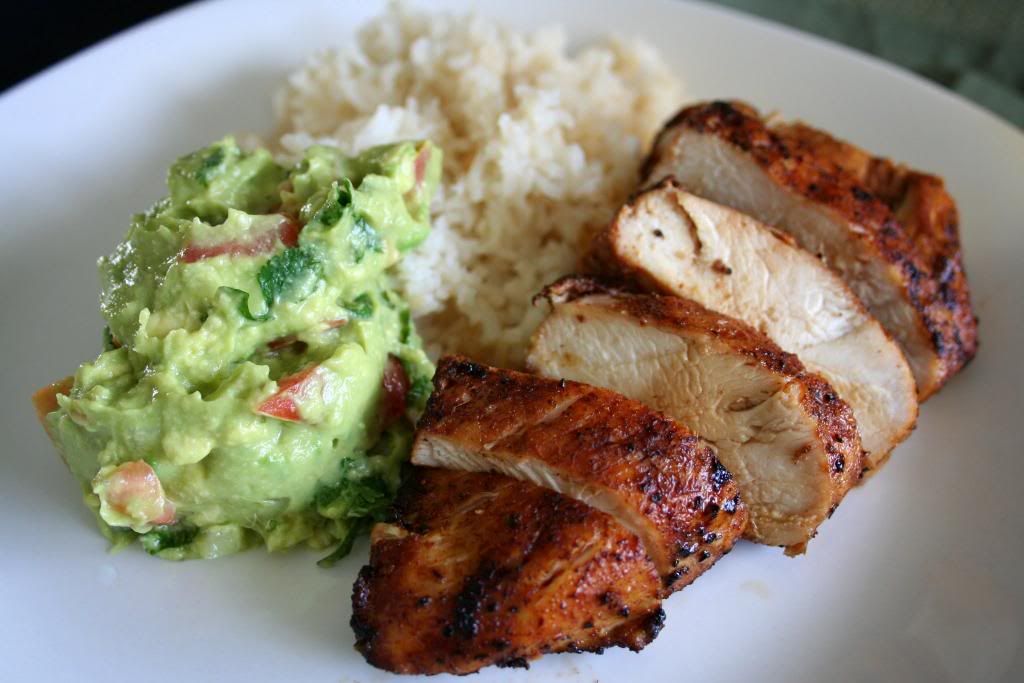 I'm sick like a dog at this moment so I'll make this post a short one. I made a coffee-rubbed roasted chicken breast last week with a side of garlic rice and guacamole. I got the recipe from
Wholefoodsmarket.com
and added my little twist on it.
Ingredients: (I don't measure, sorry!)
- ground coffee ( I used El Hubby Cakes Nescafe Dark Roast coffee)
- Mexican chili powder
- salt
- pepper
- garlic powder
- brown sugar
- Olive oil
- 2 chicken breast
Directions:


-Preheat oven 375 degrees.
-Place 2 chicken breast in a ziploc bag.
-Add ground coffee, Mexican chili powder, salt, pepper, garlic powder, brown sugar and Olive Oil. Mix and massage the meat. Let it sit for at least 20 minutes to marinate.
-Heat pan over medium heat.
- Add olive oil. Sear chicken breast for 3-4 minutes on each side until the surface of the chicken gets a nice crust.
-Transfer in the oven to finish cooking for 20-25 minutes.
-Let it rest for 5 minutes before cutting.
-Serve with garlic rice and guacamole.
Coffee with meat sounds like a little odd, but it works and is really delicious. It adds a sweet and smoky taste to the chicken. You should try it!