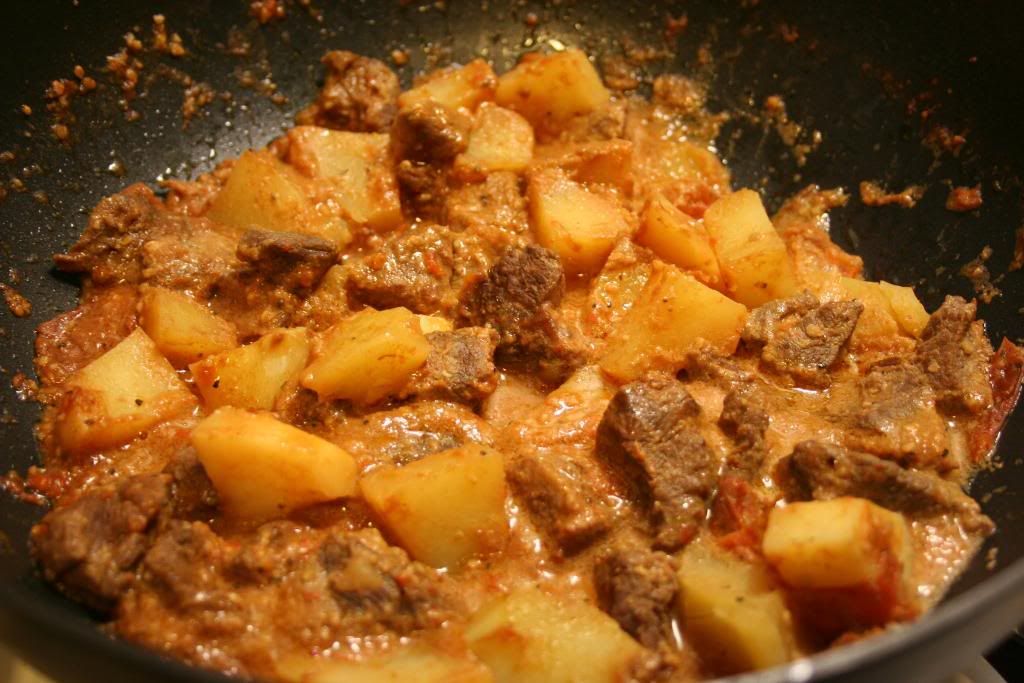 I made creamy beef stew using what I had in the fridge/pantry. I like this kind of cooking because I like the challenge of coming up with something good with what I already have. It doesn't have the all the traditional ingredients of a beef stew but it still came out pretty damn good. Beefy and hearty and best eaten with steamed white rice. Oh yeah!
Here's the recipe...Again, I don't really measure the ingredients. Sorry!
- boneless beef chuck cut into chunks
- cubed idaho potatoes
- chopped roma tomatoes
- diced onions
- minced garlic
- 1 bay leaf
- dried parsley
- dried thyme
- beef broth
- flour
- Olive Oil
-turn on stove on medium heat. add olive oil in a large pan (make sure you use a pan with lid)
-saute onions and tomatoes until translucent
-dredge the beef chunks in flour with salt and pepper, then add beef in the pan until it forms a light brown crust (the flour will help thickens the sauce)
-add garlic and cook for a minute
-add beef broth to the pan
-add bay leaf, dried thyme and parsley
-turn heat to low, cover and let it simmer for 1 hour
-add cubed potatoes and simmer for 20 minutes (taste the broth if it needs more salt). meat and potatoes should be tender
-add a splash of heavy cream. mix. turn off heat.
-done! ready to serve with a piece of french bread or steamed white rice.
Enjoy!!!